Manage Your NextGen EHR Orders Across All Your Patients
If you're part of a medical practice, you're naturally busy – and sometimes, overwhelmed. That's the nature of this industry we are all in. At the center of all the chaos and energy that surrounds your typical medical practice? All of the orders that come in and need to get addressed. Think of everything that must get scheduled, distributed, and processed every day. There are patient orders from the lab or radiology, orders for procedures to get scheduled, and referrals to other specialists. The current workflow in NextGen EHR for Order Management is to open each patient's chart, find the open orders, and process them. The solution for a better workflow? TempDev's NextGen Orders Management Template.
Due to the administrative burden of managing orders, essential follow-up on orders can easily be overlooked. Also, adding to the problem? The standard workflow only gives you two options:
Open up each patient's chart, find their open orders, and work each order.

Run a report on all open orders

and try to reconcile with the report by going into each patient's chart.
Without the TempDev NextGen Orders Management template, there isn't an easy way to be proactive in closing out open orders. Think of all the time lost on this process that could be better spent with patients or doing something to move the practice forward.
The result of all this administrative burden in a busy office? Significant opportunities for improving patient care go by the wayside. These missed opportunities not only help your financial bottom line, but they also help improve those crucial quality scores for MIPS and HEDIS. Taking a proactive approach through scheduling these vital follow-ups boosts those quality scores and showcases your focus on better healthcare throughout the community.
So, how can you develop a better order management system for your practice? That's where TempDev comes in.
The Order of the Day: TempDev's NextGen Orders Management Template
With TempDev's NextGen Orders Management Template, you'll have the ability to bring efficiency and order to your practice's order management. The TempDev Order Management practice template integrates smoothly and seamlessly with your existing NextGen EHR software to complete multiple orders for multiple patients, all from one screen. That's right. There's no need to click through dozens of screens to follow-up on orders for each individual patient. With the Order Management Template, everything you need to manage the order is in one place.
Think of the freedom that allows your practice. Everything you need to do is displayed on a single screen – without any extra clicks. You can manage and bill every type of open order from our template, including:
Diagnostics/Radiology
Labs
Office Services
Procedures
Referrals
Another benefit to the TempDev Order Management Template? It has a seamless integration with NextGen Document Management (formerly known as NextGen ICS). We're all aware that faxed and mailed orders are still prevalent, unfortunately, throughout many practices. With TempDev Order Management, you can easily attach those scanned images to orders – saving time and energy throughout the entire process.
How the TempDev Orders Management Template Works
The user-friendly TempDev Orders Management Practice Template works to help find, track, and clean up all of those orders not closed. With just one glance, users can get a "quick view" of your practice's open orders – so you can proactively and comprehensively manage all of the open orders that exist.
How does it work? TempDev's template is designed to exclude all the orders in a status of completed, canceled, declined, or deleted. That leaves only the open orders to get dealt with by your practice's staff and doctors.
The workflow is simple and easy. One-click on the "TempDev Order Management" selection after integration into the system brings up the template. Once accessed, you'll see:
Order Statistics Panel – Provides important Open Order KPIs that give an overview of outstanding orders for the entire practice. You can see the total number of open orders in each category and quickly refresh to get the most up-to-date data.
Open Orders Panel – Drill down and take action for any open orders:

Filter by Order Type: Diagnostics, Labs, Office Services, Procedures, Referrals, and Other Orders
Additional filtering: Provider, Status, and Patient
Quickly open the patient's chart to investigate further if needed
Submit missing charges to the Superbill
Manage the order by quickly filling out missing information
Attach NextGen Document Management/ICS images to orders
Send tasks to staff for follow-up
Another benefit? The customizable TempDev NextGen Orders Management Template allows for easy modification to fit the specific needs and desires of your practice.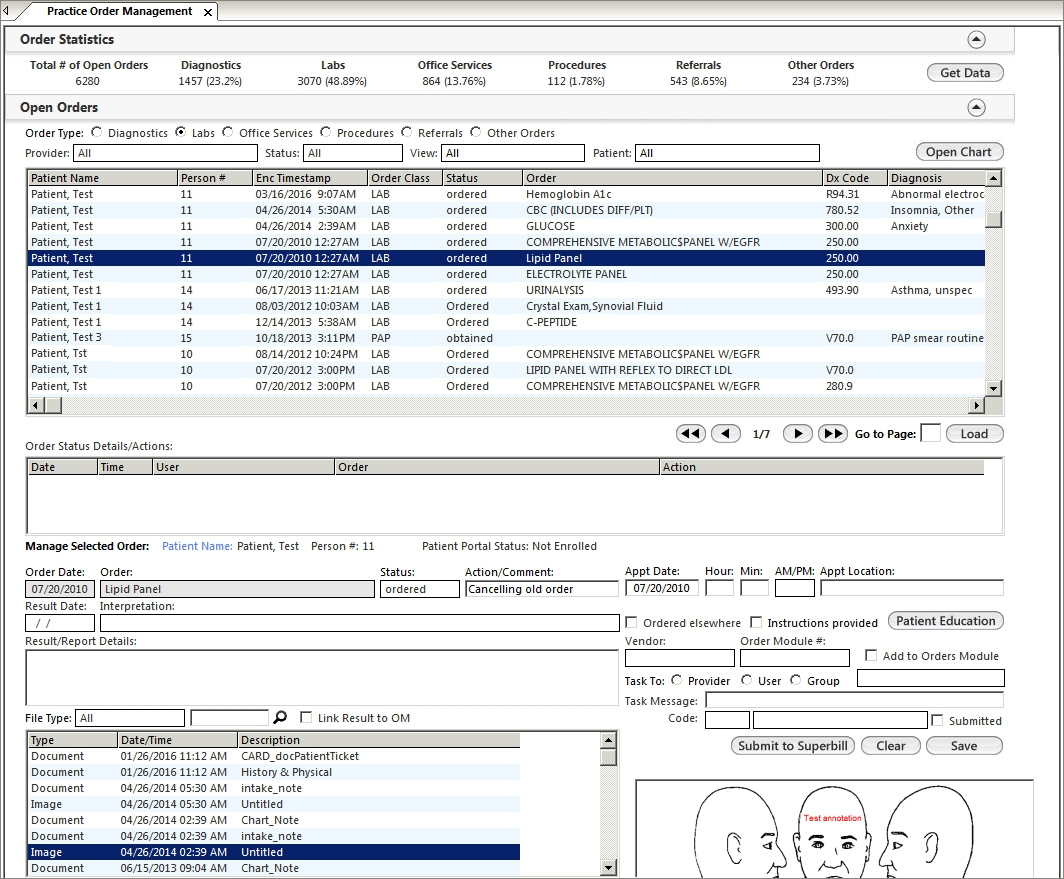 Quality Improvements with the TempDev Orders Management Template
Many quality programs, including MIPS and HEDIS, look for physicians to have their patients complete both routine health maintenance screenings and chronic condition management orders. It is critical that open orders are thoroughly managed in order to maximize quality scores and reimbursement. Some of the clinical quality measures (eCQMs) that our template could help improve are:
Helping Healthcare Throughout Your Practice
The TempDev NextGen Orders Management Template provides a user-friendly, seamlessly-integrated way to help boost your practice's order management. In an age where "physician burnout" is a real danger – and when burnout is driven by the vast amounts of administrative work doctors and staff have to deal with – the TempDev NextGen Orders Management Template is a useful tool for reducing stress and putting the focus back on patient care. With this NextGen EHR template doctors and staff won't get overburdened with clicking endlessly through screen after screen.
The Template will cut down on the busy, administrative work and allow medical practitioners to get back to what they do best – seeing patients and developing practical, proactive care plans that keep people healthy. These efforts help a practice's financial bottom line and provide needed boosts to those important quality scores that are key to continued growth and success.
Looking to get started with the TempDev Order Management Software Template? Contact us for a demo and more information!